Dummy flight tickets are the only flight tickets that show the actual details of the flight journey that have been confirmed but have not yet been issued to the customer. Unlike a fake ticket, a dummy flight ticket has a valid PNR that can be verified directly on the airline websites for which you have made a booking.
When you apply for a travel visa, there is no guarantee that your application will be approved, so with a dummy ticket, you are eligible to submit the required documents, even if your application is rejected you will not have any You will not have to lose money.
The main use of dummy tickets is to apply for a visa. Most embassies ask for flight reservations during the visa application process. Dummy tickets are also used as proof of return to show in immigration during travel.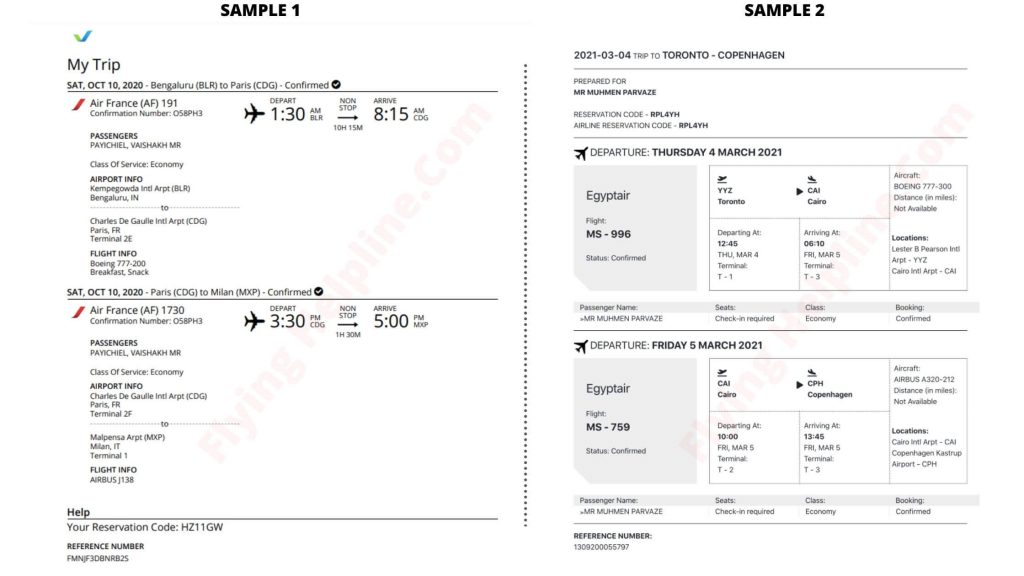 Do the Embassy or Consulates accept the Dummy Ticket for Visa Application?
Yes, dummy flight tickets are officially accepted for travel visa applications based on the embassy or consulate, this document can be referred to by different names like Flight Reservation, Flight Itinerary, onward travel ticket, etc. On social media and discussion boards, people can also refer to Dummy Air Tickets | Dummy Flight ticket, etc.
However, The embassy does not recommend purchasing full paid actual tickets. The consulate understands the fact that there is no guarantee of a visa application.
Example: FRANCE VISA CHECKLIST officially ask for (Flight Reservation) :

Check out What Other Embassy Ask >>>>>>>>
How can I get a Confirmed Flight Reservation for visa?
Time needed: 2 minutes
We will help you book a dummy ticket for a visa application, which can then be converted into a confirmed ticket or canceled if your visa application is rejected. This will potentially save you thousands of dollars on your air ticket, as dummy tickets booked through our website are valid for at least 2-3 weeks.
Visit the Flyinghelpline website to choose the right package.
Submit the travel details and make the payment online.
Receive flight itinerary in email.